---
THE BLYTMANN FAMILY GENEALOGY
GREENLAND
---
Charles Alexis Blytmann, the son of Laurits Carl Frederik Blytmann and Eleonore Sofie Petersen, left Denmark in 1870 for adventure on the Northwest coast of Greenland. He was 24-years old at the time and had signed up as a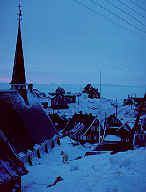 "voluntær udligger"(* see below) in Greenland. He arrived in Upernavik sometime before October 1st, 1870 since he appears on the official Greenland census (Folketælling) conducted on that day. The following year Charles Alexis married Marie Christine Christiansen from the nearby village of Prøven and they had two sons:
August Jens Theobald Blytmann, born July 18, 1872
Charles Mathias Knud Blytmann, born November 16, 1874
UPERNAVIK, WINTER 1991. THE SUN WILL RETURN IN THREE MONTHS.
Unfortunately, Charles Alexis drowned on April 4, 1874 in a kayak hunting accident. Soon thereafter his oldest son died, and the younger son Charles Mathias Knud Blytmann, thus became the progenitor of the entire Greenland family as it exists today.
Beyond his immediate living family, Charles Alexis' death soon faded from memory in Denmark, and with it any knowledge in Denmark about the Blytmann's in Greenland. For 120 years the families were completely separated without any knowledge of each other. This situation changed in 1991 when my brother, Finn Blytmann, had a chance encounter with a Greenlander in a Copenhagen art gallery which resulted in reestablishing contact between the Danish and the Greenland branches of the family. Incidentally, this first Greenland contact was between my brother and Sofie-Birthe Blytmann, then married to Hans Aronsen, a well known North-Greenland hunter. They lived at the time in the small village of Qaanaaq - which is the northernmost indigenous permanent settlement in the world (located in about latitude 77 degrees north, population 248).
Charles Mathias Knud Blytmann, the only surviving son of Charles Alexis Blytmann, married Else Hedevig Susanne in about 1900, and they had five children:
Karen Katrine Tabitha Blytmann, born January 11, 1902
August Rasmus Mathias Blytmann, born November 19, 1903
Jacob Severin Thorleif Knud Blytmann, born June 15, 1906
Frederik Mathias Thomas Blytmann, born December 17, 1908
Ole Axel Peter Gabriel Blytmann, born December 15, 1913
THIS IS HOW THE BLYTMANN FAMILY APPEARED ON THE OFFICIAL 1911 GREENLAND CENSUS (FOLKETÆLLING).
Most of the members of the Blytmann family lived in the village of Prøven and the nearby town of Upernavik for the next several generations. Up until recent times they all made a living from hunting and fishing; some of the Blytmann's were known to be excellent hunters. Today there are numerous Blytmann's in North Greenland and many still live in Prøven and in Upernavik.
THE BLYTMANN FAMILY IN FRONT OF THE UPERNAVIK CHURCH, JULY, 1992.
---
(*) Loosely translated as "a person who volunteers to supervise a small village on behalf of the government". På dansk: "Voluntær: En person som arbejder gratis på et offentlig kontor eller institution (som regel med håb om senere fast ansættelse)". "Udligger: Gammelt Dansk; een som leder et udsted, især på Grønland".
---
If you are related to a Blytmann or you are interested in the genealogy of the Blytmann family we would very much like to hear from you. CONTACT US

SELECT ANY OF THESE BUTTONS FOR INFORMATION ON OTHER BLYTMANN FAMILIES
TAGE & CHARLOTTE BLYTMANN, CONTACT US Telefax: (1) (360) 697-6253. copyright ©, 1998 - 2003