---
THE BLÜTHMANN FAMILY GENEALOGY
---
The Blüthmann family history has traditionally been centered around a relatively small area known as West-Prignitz (Brandenburg) (also known as Prussia in earlier days) in Germany . If we draw a straight line on a map between Berlin and Hamburg and then draw a small circle at the half way point we encircle the villages of Lanz, Lenzen, Wustrow, Bentwisch, Cumlosen, etc.- the ancestral home of the Blüthmann's.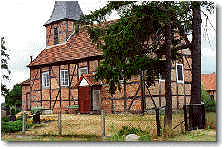 THE OLD HISTORIC CHURCH IN WUSTROW (PRIGNITZ) WHERE MANY BLÜTHMANN's WERE BAPTIZED, CONFIRMED, MARRIED and BURIED IN THE 1700's. THIS CHURCH WAS BUILT IN ABOUT 1750, REPLACING AN OLDER ONE WHICH HAD MANY BLÜTHMANN PATRONS IN THE 1500 & 1600's.
The earliest mentioning of the family name, that I am aware of, appears in Die Branden burgischen Kirchen visitations - Abschiede und Register des XVI. und XVII Jahrhundrets, where in 1538: "Veffteyen perl. marck ssynt by Merten Bluteman, Borger tho Lentzen". Lenzen is one of the oldest towns in the area dating back to approximately 1150. In the same volume we read that in 1544-1558 "... 4 1/2 Ruden wiscken, liegen bei diesser gulden vicarien wiesen, haben dir Guldemeister vmb 6 Marck kaufft von Gercken Schroder nachgelassener, die zeit Heyne Blutmans hausefraw". Additional Blüthmann's are mentioned throughout the 1500's, for example a Achim Blutteman in 1558.
Additional printed references to the family name can be found in Prignitz Kataster 1686 - 1687. In the town of Jagel we find a Jochim Blidtman; a Balzer Bluthman in Wustrow; and the major of Lanz, a Paul Blutman.
First hand information about part of West-Prignitz has been difficult to come by because the area was located in the former East Germany (DDR). Not only that, but some of the villages, including for example Wustrow and Jagel, were located inside a highly restricted military zone due to the proximity of the "Iron Curtain" which separated east and west Germany up until about ten years ago. Only within the last decade has it been possible to observe the area close-up and to gain access to important contemporary records, including some church records. Nevertheless, selected local church records have recently been examined and here is a sampling of what we found on the Blüthmann's in the 1600's and the 1700's:
Wustrow, 1692: Paul Barthelsz Blüthman was born on September 21st; parents Paul Blüthman and Sophia Barthelsz.
Cumlosen, 1699: Jochim Blütmann married Catharin Jäps on October 25th.
Bentwisch, about 1720: Jochim Blütmann married Anna Catharina Dancken, they had at least four children:
Hansz Christopher Blütmann, born May28, 1722
Maria Blütmann, born August 10, 1724
Engel Blütmann, born October 18, 1729
Catharina Blütmann, born July 31, 1733
It is interesting to note that approximately 35 - 40% of all individuals with the Blüthmann surname in Germany today live either in the Prignitz area or close thereto.
WUSTROW (PRIGNITZ), POPULATION 72.
---
If you are related to a Blüthmann or you are interested in the genealogy of the Blüthmann family we would very much like to hear from you. CONTACT US
SELECT ANY OF THESE BUTTONS FOR INFORMATION ON OTHER BLÜTHMANN FAMILIES
TAGE & CHARLOTTE BLYTMANN, CONTACT US Telefax: (1) (360) 697-6253. copyright ©, 1998 - 2003